Our forefathers (and mothers) crossed our great country in the dirt and so many of us dream of following in their footsteps – 'cept maybe with a motor!  Sam Correro has made this a reality for riders the world over by mapping out a 5000 mile dirt route from North Carolina to the Oregon Coast – The Trans America Trail or TAT for short.  If you've got the itch to take your machine, two or four wheeled, back through the nation's richest scenery, listen in this week as Sam recounts his explorations and experiences that brought us this ultimate dirt riding experience.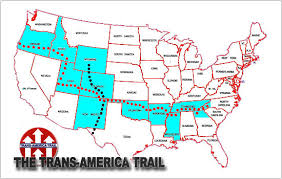 Adventure traveler Joe Martin rejoins us to wind up his coverage of his South American Dakar journey.  14 days, 13 countries, 14000 km and 2 crashes, to sum it up, but it's the details of his trip that we found so thrilling.  To experience The Dakar, "Formula One on dirt", on a motorcycle is beyond compare and Joe's exploits made our jaws drop.
This week's show below – listen in or download for later!